Portable Bars for Corporate Events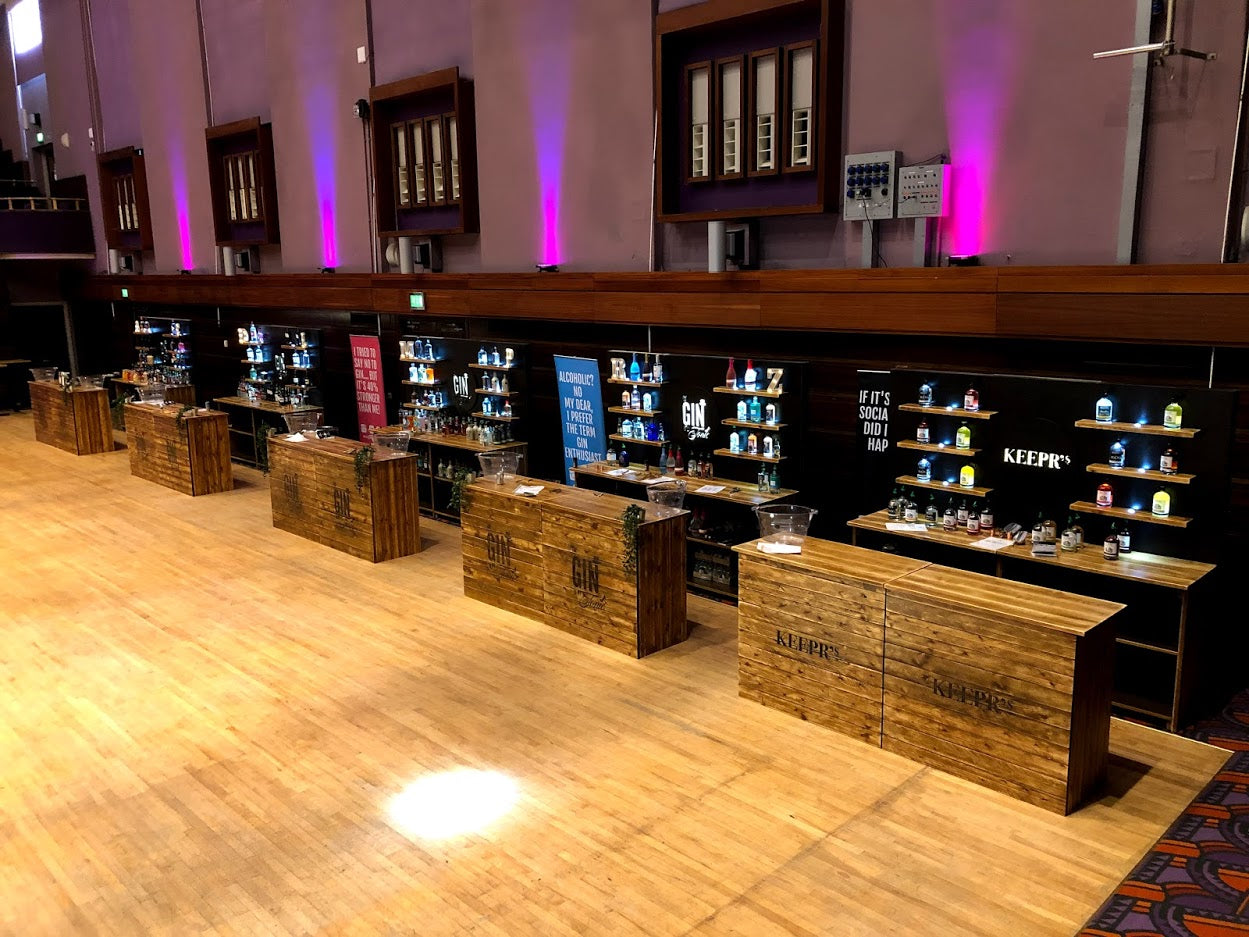 At Bars2You we provide portable bars for temporary events and exhibitions regularly, and February was no exception. We were involved in two corporate events, one of which was a UK bar trade event and the other was a Gin festival which was open to the general public. Both very different events, but both very enjoyable. 
The Gin to My Tonic Festival
If you follow our blog, you will have seen that we were involved in the Gin to my Tonic Christmas Festival in Harrogate at the end of November last year. This went so well that Emira and Paul, the two friends behind the Gin to My Tonic Blog and Festivals asked us to continue working with them on their festivals for the next 12 months.
Their first festival of this year was held at Watford Colosseum on the 2nd February.  Bringing together over 100 different gins from across the UK, the aim of the festival is to let people go on a gin discovery. We provided rustic event bars for the festival which showcased the wide range of established and emerging craft gins, chosen from the range of distilleries that the Gin to My Tonic team has relationships with.
As with previous festivals, this event was well attended, and the gin mobile bars proved popular! Each attendee received a 'Gin to My Tonic' Copa Glass and tasting notes which detailed the range of gins available and really enriched their experience. There were also some fantastic street food stalls to help soak up the gin!
The Bars2You team really enjoyed providing the portable bars for this event and are looking forward to doing the same at the next festival in Glasgow on the 15th March.
CLASS Bar Awards
The other event we were involved in this February was the CLASS Bar Awards, which have the reputation of being the UK bar industry's most important celebration. Aimed at recognising the bartenders and bars who set the standard when it comes to hospitality and innovation, the Bar Awards are determined by an industry vote of 70 of the UK's top bar industry experts.
With awards including Back bar of the Year, Emerging Bartender, Lifetime Achievement, and Cocktail of the Year it was undoubtedly a night to remember with a fabulous dinner and cocktail taking place before the actual ceremony. 
Bars2You again supplied the branded bar units for Doorly's Rum, Liberties Irish Whiskey and New Amsterdam Vodka to be able to showcase their drinks, for the second year on the run.
These are just two examples of the corporate events we have provided mobile bar hire for - many more can be found over on our Gallery page. If you would like to have a Bars2You portable bar at your next event, then please get in touch with us today for more information.
Mar 05, 2019

Category:

News
Comments: 0