How a Portable Cocktail bar will Make your Office Christmas Party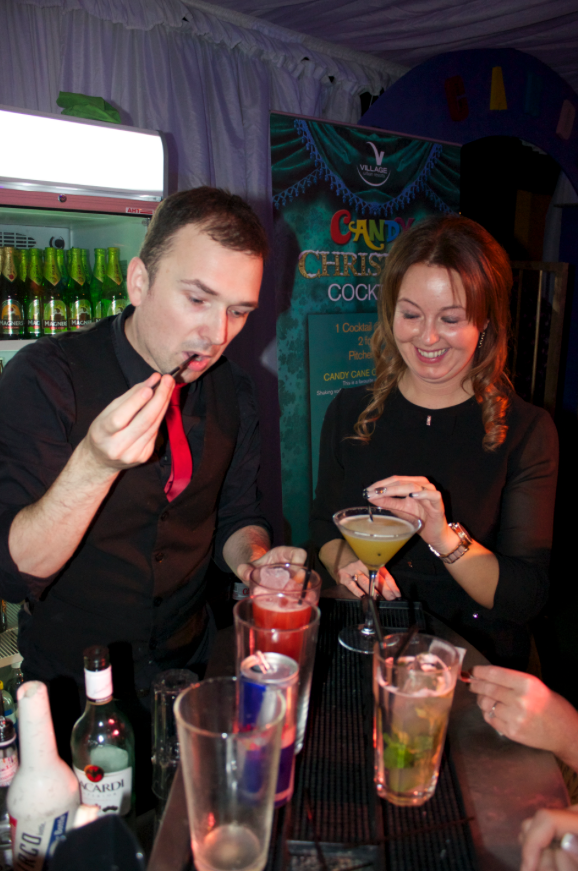 Christmas is fast approaching, and our portable cocktail bar service is busier than ever. Lots of people are booking us for their Christmas Office Parties as everyone loves a festive cocktail, don't they? Here are some tips we have picked up over the years to help you to plan the best office Christmas party yet:
Share the Success
Getting all your employees together at Christmas is a great way to show them how much they mean to you and your company, and how much you appreciate everything they do for you. Hiring a portable cocktail bar from us and asking our staff to create a signature cocktail for your team is the perfect way to make them feel special and to celebrate the fact that you are like a second 'family'. If you want to push the boat out, why not hire one of our branded bars to give your team a taste of the VIP treatment.
Hands-on Fun
No, we are not talking about that kind of hands-on fun that can happen at a Christmas Party, we are talking about getting your employees involved in making their own cocktails! Hiring someone to give your team a cocktail masterclass is a great way to get them all having some fun - shaking some cocktails, throwing the plastic bottles about, and pairing unusual flavour combinations together. And it will really give them great memories to look back on when they recreate their concoction for their own families over the festive period.

Ease of Planning

If you are the designated Christmas Party organiser, then you may be a little fed up of the yearly task of ringing round places trying to find somewhere suitable within budget, trying to get the company credit card off your boss to be able to pay for things, and getting in touch with everyone to find out their food preferences. Keeping the party in-house and hiring in a portable cocktail bar takes all the hassle out of the Christmas do, as we can bring the bar, the equipment and even the staff and all you have to do is sit back and enjoy!
The whole team at Bars2You.com pride themselves on offering the best service to you and going out of their way to ensure your Office Christmas Party is a night to remember (for all the right reasons). We guarantee your colleagues will be swept off their feet with the service we provide and will be thanking you for months afterwards on the best office cocktail party they have ever been too.
So, what are you waiting for? Get in touch with us today to source the best portable bar for your office party this year. You can call us on Phone: 01925 633131 or you can drop us an email too: enquiries@bars2you.co.uk
May 15, 2018

Category:

News
Comments: 0